Pittsburgh's Premier Seafood
Pittsburgh's Premier Family Owned Seafood Restaurant for over 40 years
Arrive live every Thursday at 5pm call for pricing and availability.
Experience the only place in Pittsburgh with LIVE MARYLAND BLUE CRABS!
We have been a family owned and operated restaurant for over 40 years. It all began with a small truck driving to the Chesapeake Bay picking up Maryland blue crabs. Today the Baltimore House seats over 350 people and continues to bring the Chesapeake Bay to the South Hills of Pittsburgh PA. The restaurant consist of 2 full bars, banquet room facilities, two game rooms and multiple levels of seating. The owner Lou and his daughters have always had a passion to provide high quality seafood at a reasonable price. We sincerely thank our loyal customers and hope to continue to serve future generations.
All entrees include two sides of your choice: House Salad, Baked Potato, Garlic Mashed Potato, French Fries, Vegetable Medley, Coleslaw or Cup of Clam Chowder.
Add a cup of Lobster Bisque to any meal in place of a side dish for an additional $2.95
5 oz Filet Mignon,5 oz lobster tail, 4 oz scallops, 4 oz shrimp and 1/2 lb snow crab legs
$36.99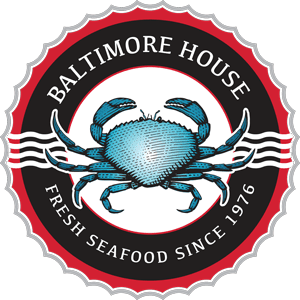 "Had great time at Baltimore house restaurant and been there many times throughout years. This place is more like neighborhood place so if you haven't been here before it feels to casual but I'd highly recommend!!! Food takes little longer but it's worth it because they took time to prepare to make sure it is gooooood!!! My husband and I enjoyed very much so give it another try if you were disappointed!!!"
Mia Landolina
"The Baltimore House made my parents 60th anniversary so special and went above and beyond to make their dinner a memorable day and celebration during a time where it is so important to celebrate more then ever. 👍 The food and kindness was beyond 5 star. We have celebrated many of their anniversaries at the BH over the many years and we love it Great Family Place."
Kellie Gavran
"This place was amazing. Everything we got to eat was cooked perfectly and the server who waited on us was top notch. But most importantly the building itself was an incredible labyrinth of nautical curiosities and hot tubs. Highly recommend a visit."
Tina Betters

127 Curry Hollow Road, Pleasant Hills